General Internal Medicine
Staff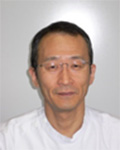 Prof. MASUGATA
Professor
Lecturer
Clinical Assistant Professor
Current Research Projects
Study for new imaging method of cardiac function in elderly patients.
Identification of Serum microRNA as a Biomarker in Inflammatory Bowel Diseases.
Usefulness of the endoscopic resection under D-sorbitol solution for colorectal tumor lesion.
Investigation of ischaemic tolerance exercise and microRNA of hippocampus.
Periodic administration of hemin for the purpose of preventing seizures against acute intermittent porphyria.
Recent Publications
Severe Small Heart Syndrome in a Patient with Anorexia Nervosa. Takata T, Ishikawa K, Yachida T, Masugata H, et al. Am J Med. 134(5):e315-e316 (2021).
Characteristics and clinical outcomes of duodenal neoplasia in Japanese patients with familial adenomatous polyposis.
Yachida T, et al. J. Clin. Gastroenterol. 51, 407-411 (2017).
Light exercise without lactate elevation induces ischemic tolerance through the modulation of microRNA in the gerbil hippocampus. Takata T, Nonaka W, at al. Brain Res. 1732,146710(2020).
Contact Information