Endocrinology and Metabolism
Staff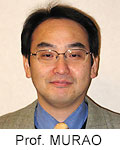 Professor
Associate Professor
Assistant Professor
Current Research Projects
High-density lipoprotein (HDL) metabolism in diabetes.
Lipid metabolism of hepatocyte in diabetes, especially fatty liver.
Molecular mechanism and transcriptional regulation of glucose metabolism in diabetes.
Diabetes management using information communications technology.
Recent Publications
Insulin-like growth factor 1 regulates the expression of ATP-binding cassette transporter A1 in pancreatic beta cells.
Lyu J, et al. Horm. Metab. Res. 48, 338-344 (2016).
Immunoreactive insulin in diabetes mellitus patient sera detected by ultrasensitive ELISA with thio-NAD cycling.
Ito E, et al. Biotechniques 59, 359-367 (2015).
Decreased expression of platelet human scavenger receptor class B type I in patients with type 2 diabetes mellitus.
Imachi H,et al. J. Diabetes Investig. 5, 345-346 (2014).
Contact Information
E-mail: